Moon Kids was founded in Abu Dhabi in 2011 by Stay at Home Dad Paul. All Paul wanted back then was to buy a bean bag. The business grew, transforming into designing and supplying a full turnkey solution for the commercial education sector and we are now expanding into deliveries to Saudi Arabia, Bahrain, Kuwait and Oman.
Interested in transforming your nursery, school or business? You can find out more about the commercial side of the business over at Moon Kids.
You just have to browse our online shop to experience our passion for the new and innovative in indoor play equipment and outdoor play equipment.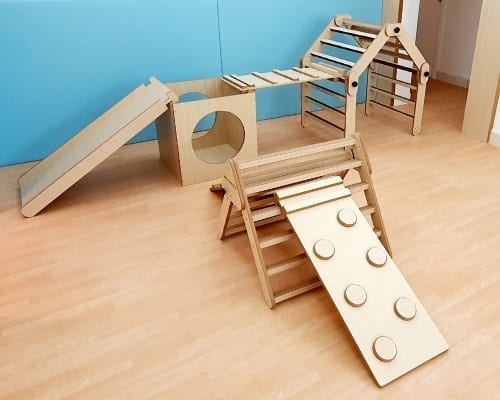 Moon Kids at Home Products for Delivery
We offer a fantastic range of at Home products. Our pikler triangle range is loved by all children. They can swing, climb, jump, slide and help get rid of that excess energy. Our learning tower is also extremely popular. This fantastic kitchen aid brings your child up level with the worktop so they can be involved when baking and making!
Bring the Soft Play Home!
Even our soft play has had a makeover. Still available in glorious rainbow shades, but now also available in beautiful muted tones of grey and white so you can keep the softplay pieces in your living room and have them looking gorgeous!